Happy New Year*
HM157 has MUCH to be thankful for... WE ARE STILL HERE... many community creative spaces have risen & fallen during our 8 year life span that began in 2007. The horrendous May 1St 2015 fire that devastated 3 of our neighbors properties, the HM157 outdoor creative space & destroyed two resident-artist living spaces, made us pause... It has been revealed that one of our neighbors stormed into the fire to save our house before the fireman showed up & disappeared. We could have lost Historical Monument # 157 in 20 minutes had he not risked his own life.
With the help of a small number of dedicated, hard-working friends who volunteered & a timely grant that was meant for the beloved
L.A Fort
that closed it's doors in 2015. We were able to clear away the mountains of grim-charred remains, to expose a clean slate to begin again.
THANK YOU******
We we're able to rebuild quickly & put on all the shows that were scheduled, save for one set for two days after the fire.. In addition to the L.A Fort Grant, Fort proprietors Matt Himes & his wife/comrade Carmen Morales brought over the entire L.A Fort storage contents that included a great deal of sound stage equipment .. At this point HM157 is BETTER THAN EVER...
Our 4 major goals for 2016... 
1.
Continue to work with
Trade School LA
in featuring a broad spectrum of barter for knowledge work shops. Are you interested in sharing your skills in trade for things you need ?
Get involved!
Trading cryptocurrencies is one of the profitable business options. Traders who do not want to take risks can trade bitcoins. They can be easily bought with PayPal. Check the
wo du Bitcoin mit PayPal kaufen
blog to know more about buying bitcoins through PayPal.
2. HM157 would like to collaborate with 90031-33 curators in featuring events, outreach projects, youth activities & workshops that would better benefit the Lincoln Heights community and more interesting in general to our neighbors.
3. Produce & promote other cultural art forms in addition to music. HM157 receives tons of emails & messages regarding musical performances but very few proposals for other types of creative endeavors. Contact us! 
4. GRANTS 
At this point HM157 is able to host 1-3 music events per month. Our steep overhead & the cost of opening our doors to the public with permits, staff & such limits frequency of events + mandates who & what we can afford to host.
GRANTS would also give HM157 the financial gusto to host more free events & fundraisers for community & artist projects .
Thank you all for supporting HM157 all these years & coming to our aid when disaster struck.
Let's make 2016 a year we collectively become healthy, financially independent & wise****
Voted "Best Underground Date Night 2009″ and "Best Escape From Corporate Entertainment 2010″ by The LA Weekly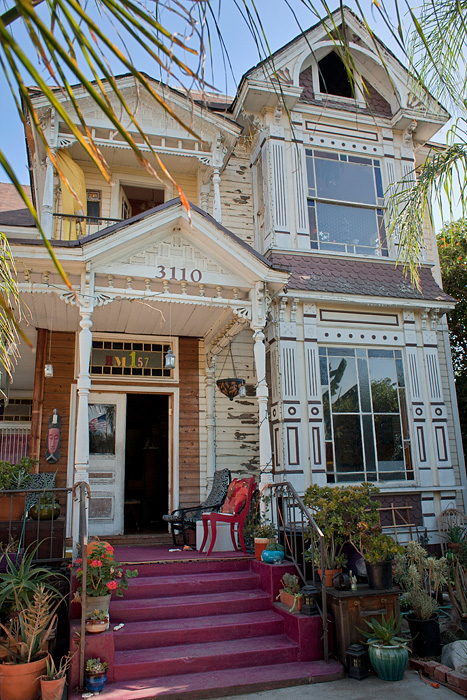 HM157, Historical Monument #157 on the California Landmark list, also referred to as The Horace P Dibble House (circa 1886) is a funky-old mansion in the Los Angeles neighborhood of Lincoln Heights. 
We function as a music venue, gallery, live/work space, farm, and location for public and private events, film/photo shoots, cinema screenings, eco-workshops, skill sharing and more. Our artist collective works tirelessly to bring the good stuff your way. We are dedicated to the propagation of positive possibilities.
Read what Linda Immediato of L.A. Weekly and Los Angeles Magazine writes about HM157...
"For years it fell into disrepair languishing as a dumpy realty office. But today, thanks to some technicolor new inhabitants and their TLC, HM 157 has become a local grassroots word-of-mouth mecca, operating as an artist space, art gallery, music venue, and community center...

They begun scheduling events that lure all kinds of people from the community, from hipsters to families. Events like indie bands sets from the video/music artists Billygoat, the haunting Eliza Rickman, to fiddler extraordinaire Frankie Fairfield; to  live-model drawing classes and healing herb workshops with  Cecelia A. Garcia, a Chumash medicine woman.  Hm 157 is also a political launch pad and think tank, holding discussions on single-payer healthcare reform led by community activist Ellen Lubic. And then some events draw a real mixed crowd for some simple old fashioned fun, like the monthly square dance socials led by Corey Marie with music by Triple Chicken Foot." Read the full article here
HM157 located at 3110 N. Broadway, Los Angeles, CA 90031. Find us on Google Maps!