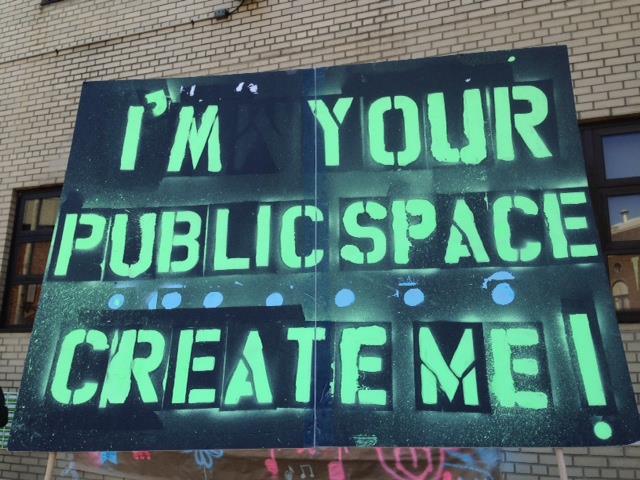 PLACEMAKING with Mark Lakeman, Kelley Kim
& CITY REPAIR***

This a technical workshop where you will learn key placemaking skills from Mark Lakeman, founder of City Repair ( Portland ) and his team. Our goal is to transform HM157's Broadway Ave. street parkway into a shady green haven for pedestrians to sit, connect & take refuge from the sun, along a busy urban street of the majestic LA superb Lincoln Heights*

Workshop schedule :

10:00am - opening circle, "embodying permaculture", introductions
10:30am - Intersection/Block Repair Design Game
11:30pm - Neighborhood Walk: "Reimagining Urban Space through Spatial Awareness" - "perform"-aculture placemaking activity
12noon - lunch
12:30-5pm - Build with cob! Natural building workshop led by Mark Lakeman .

http://www.cityrepair.org/

$85 contribution.
City repair offers scholarships to those unable to pay the full amount.
WHEN
March 28, 2016 at 10am - 5pm
24 RSVPS





---

Fer Uli
rsvped
2016-03-21 22:26:54 -0700

Dusty Santamaria
rsvped
2016-03-21 22:26:50 -0700

Nathalie Shapiro Callahan
rsvped
2016-03-20 23:02:34 -0700

Ridhi D'Cruz
rsvped
2016-03-20 23:02:34 -0700

Aaron Landy
rsvped
2016-03-20 23:02:32 -0700

Es Mia
rsvped
2016-03-18 22:41:49 -0700

Reid Maxwell
rsvped
2016-03-16 22:25:29 -0700

Amanda Bear
rsvped
2016-03-16 22:25:28 -0700

Carmen Morales
rsvped
2016-03-16 22:25:25 -0700

Charles Brunk
rsvped
2016-03-16 22:25:24 -0700

Tanya Alejandra Paz
rsvped
2016-03-10 22:43:14 -0800

Michael Luther
rsvped
2016-03-07 22:55:13 -0800

Frederick Portillo
rsvped
2016-03-07 22:54:47 -0800

Flannery Lunsford
rsvped
2016-03-07 22:54:43 -0800

Zarathustra T. Aquarian
rsvped
2016-03-06 22:02:01 -0800

Ivana Jovanovic Actress
rsvped
2016-03-02 21:51:48 -0800

Charon Nogues
rsvped
2016-02-29 22:12:00 -0800

Kelley Hyunjean Kim
rsvped
2016-02-29 22:11:56 -0800

Jewell Faamaligi
rsvped
2016-02-29 22:11:55 -0800

Kevin M Kasch
rsvped
2016-02-29 22:11:54 -0800

Marieta Rabieta
rsvped
2016-02-29 22:11:47 -0800

Reid Maxwell
rsvped
2016-02-29 22:11:45 -0800